ABOUT US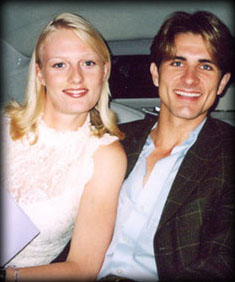 Lionel & Georgia Ferreira
Monnington Farm is a premier Saddlebred training facility located in the heart of Horse country in Simpsonville Kentucky, owned by Lionel & Georgia Ferreira. Their goal is to bring people, horses and perfection together, with an emphasis on quality in every aspect of their facility.
Lionel Ferreira has been around Saddlebreds from an early age, after leaving school he went to Kentucky to work for some of the leading trainers in the industry to hone his craft. He then went onto train for John & Angela Bulmer in Hereford, England. During that time he brought out Champion after Champion whilst also dealing with the long distances involved in flying horses over from abroad to compete on the Kentucky Circuit.
In 2010 Lionel & Georgia made the move to Kentucky and opened Monnington Farm to the public. Lionel is well-known for his selection and training of top young horses and amateur horses alike, having selected and sold such stars as - WC Heir to a Kiss, WCC HS Baby Steps, WCC HS Decorum, WCC Marc of Charm, RWC Watermark's a Kiss for Luck, WC Calif First Night Out, WC Gothic Revival, RWGC Carlsward Princes Domino, CH SJ Like a Champ.
Georgia Bulmer Ferreira grew up around show horses and is a lifelong enthusiast and exhibitor. Georgia is a trained Interior Designer and has featured in the leading 40 designer's directory of London. More recently has taken to running the farm and working with our amateur riders, she says of Lionel. "It's extraordinary watching his dedication and love for what he does; he sets a goal and works tirelessly to achieve it."
Lionel & Georgia Ferreira look forward to welcoming you at Monnington Farm. Visitors always welcome, please call to schedule your visit.